Neuromatch conference: abstract submissions open
30 September 2020
Neuroscience News
30 September, 2020 in Neuroscience News
Mark your calendars! The Neuromatch conference will take place online on 26-30 October. Organised with the support of FENS-Kavli Scholars and Alumni, the conference is open to all fields of neuroscience. Submit your abstract by 7 October!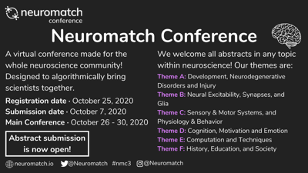 This October, FENS-Kavli Scholars and Alumni, Yiota Poirazi, Tim Vogels (conference organisers), Gaia Novarino, Denis Jabaudon, Manuel Mameli, Guillermina López-Bendito and Ragnhildur Thora Karadottir (programme committee members) are helping Neuromatch extend its popular computational neuroscience series to cover all neuroscience topics.
Neuromatch is a grass-roots initiative, establishing a series of high-quality online meetings that are as inclusive as possible.
It does so by automating the entire process and introducing several novel features: matching people/submissions based on their preferences to form interest groups, introducing new formats of talks, establishing a voting system to arrange the timing of talks etc.
Neuromath strives for diversity, equity and inclusion. It schedules talks across all time zones and ensures equal representation of people from various backgrounds or minorities in their keynote list.
All these for a low fee of $25 (which can be waived without question), to maximize inclusivity and promote open science.
Important dates & deadlines:
Abstract submission: 7 October 2020
Registration: 25 October 2020
Main conference: 26-30 October 2020
Stay updated with all the latest Neuromatch news:
Twitter: @Neuromatch
Instagram: @Neuromatch
Website: neuromatch.io