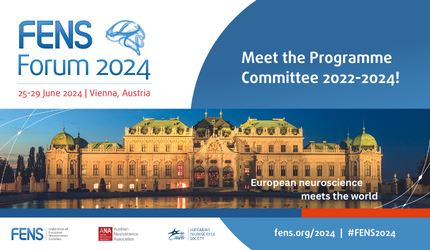 Meet the Programme Committee of the FENS Forum 2024!
24 January 2023
FENS News, Neuroscience News
FENS is delighted to announce the composition of the FENS Forum 2024 Programme Committee! 
Discover who will be preparing the scientific programme of the next edition of the Forum, taking place on 25-29 June 2024 in Vienna, Austria. 
Chaired by Liset Menendez de la Prida (ES), the Programme Committee will independently prepare and supervise the FENS Forum's scientific programme and select the plenary and special lecturers, symposia and technical workshops. 
"After having experienced a fantastic FENS Forum in Paris in 2022, I am very much looking forward to chairing the Programme Committee for the next meeting in Vienna. We will focus our joint efforts on showcasing different scientific views and exploring new horizons at the interface between emerging topics in neuroscience. We look forward to integrating the contribution of the entire community and to developing an exciting and diverse programme for FENS Forum 2024 in Vienna." (Liset M. de la Prida) 
The FENS Forum 2024 Programme Committee:  
Liset Menendez de la Prida

, Cajal Institute, Madrid, Spain – Chair

Sigismund Huck

, Medical University of Vienna, Vienna, Austria – Chair of the Host Society Committee 

Anna Falk

, Lund University, Karolinska Institutet, Lund, Sweden

Martin Giurfa

, University Paul Sabatier, Institut Universitaire de France, Toulouse, France

Ileana Hanganu-Opatz

, University Medical Center Hamburg-Eppendorf, Center for Molecular Neurobiology Hamburg, Hamburg, Germany

Balázs Hangya

, Lendület Laboratory of Systems Neuroscience, Institute of Experimental Medicine, Hungarian Academy of Sciences, Budapest, Hungary 

Eloisa Herrera

, Neurosciences Institute, Alicante, Spain

Hajime Hirase

, University of Copenhagen, Copenhagen, Denmark 

Ellen Lumpkin

, University of California, Berkeley, USA

Michela Matteoli

, Humanitas University, CNR Institute of Neuroscience, Milan, Italy 

Jean Christophe Poncer

, Institut du Fer à Moulin, French National Institute of Health and Medical Research, Paris, France

Vincent Prévot

, French National Institute of Health and Medical Research (Inserm), Lille, France 

Ana Cristina Rego

, University of Coimbra, President of the Portuguese Society for Neuroscience (SPN), Coimbra, Portugal 

Tomás Ryan

, Trinity College Dublin, Dublin, Ireland 

Christopher Summerfield

, University of Oxford, Oxford, UK

Tatjana Tchumatchenko

, Johannes Gutenberg University of Mainz, Mainz, Germany 

Emre Yaksi

,

Norwegian University of Science and Technology

, Trondheim, Norway

, and Koc University, Istanbul, Turkey
Do you want to know more about the next FENS Forum? Stay updated with the latest news about the biggest neuroscience event in Europe!