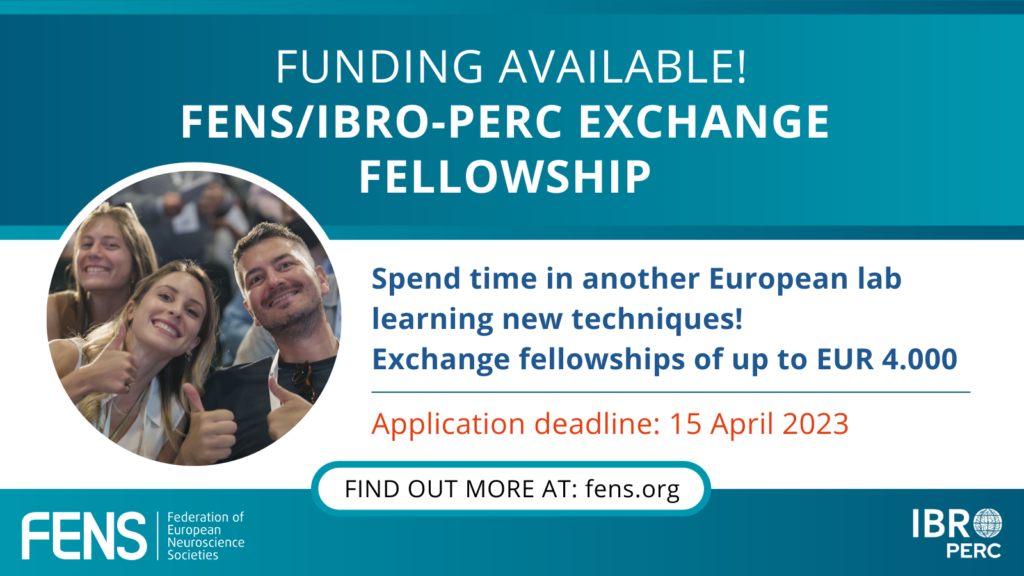 Launching the FENS/IBRO-PERC Exchange Fellowships
18 January 2023
FENS News, Neuroscience News, Society & Partner News
FENS and the IBRO Pan-Europe Regional Committee (IBRO-PERC) are pleased to announce the launch of the new FENS/IBRO-PERC Exchange Fellowships!
In their mutual and strong commitment to supporting early career researchers and intra-European mobility, FENS and IBRO are fully committed to advancing neuroscience research and training in Europe with these fellowships.
Directed at PhD students and early post-doctoral fellows based in Europe, the new fellowship programme will allow them to broaden the scope of their methodological training by supporting goal-directed laboratory visits in established European laboratories.
Two calls are organised annually, with application deadlines on 15 April and 15 October, respectively. Therefore, make sure to add it to your calendar that the first call opens on 23 January 2023.
Find out more about the fellowships here. 
About the Federation of European Neuroscience Societies (FENS)
Founded in 1998, the Federation of European Neuroscience Societies (FENS) is the main organisation for neuroscience in Europe. It currently represents 44 national and single-discipline neuroscience societies across 33 European countries and more than 22,000 member scientists. 
Discover FENS and subscribe to our biweekly News Alert, with information on our latest calls and activities.
About the International Brain Research Organization (IBRO)
Established in 1961, IBRO is the global association of more than 90 neuroscience societies that aims to promote and support neuroscience around the world through training, education, research, outreach and engagement activities, and the publication of two journals, Neuroscience and IBRO Neuroscience Reports.
Learn more about IBRO and subscribe to our IBRO Highlights to receive monthly updates on open calls, news, and events.