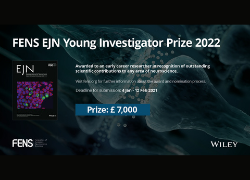 Extended deadline and criteria for the FENS-EJN Young Investigator Prize
18 March 2021
FENS News
The eligibility criteria have been expanded to include individuals who received their PhDs in the past 10 years. Candidates must also be working in Europe or be of European origin. Self-nomination is available. Deadline: 15 March 2021
If you missed the chance to submit a nomination for the FENS-EJN Young Investigator Prize, the deadline for application has been extended until 15 March 2021.
The eligibility criteria have also been expanded to include individuals who received their PhDs in the past 10 years. Candidates must also be working in Europe or be of European origin. Self-nomination is available.
The award is presented at the FENS Forum, where the awardee is required to give a lecture. They will also be required to write a review article for publication in EJN.
Do you have a scientist in mind who would be an excellent fit for the award? Do you think you meet the criteria? Read about the conditions and submit your nomination on the FENS website.
The candidates that have obtained a PhD within the last 2 years and that were nominated before 22 February 2021 will be evaluated based on appropriate criteria, with a view to secure a recognition of the best of these nominees.
For any enquiries please contact awards@fens.org