Wiley for Journal of the Peripheral Nervous System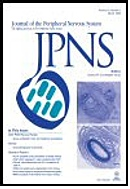 Wiley is pleased to offer all members of the FENS a specially priced subscription of the Journal of the Peripheral Nervous System. Members are entitled to order a print+online subscription for just $91,00 – that's 58% off the regular subscription price – and $ 85,00 for online only.
$ 91,00 FENS Member Price
$ 217,00 Regular Price
Or, get an online only subscription for the special price of $ 85,00. This journal, published on behalf of the Peripheral Nerve Society, publishes original research reports, reviews, letters, and news covering every topic of scientific or clinical relevance to the peripheral nervous system. To take advantage of this outstanding offer, order your subscription today by calling 888-835-6770 (toll free in North America) or +1 781-388-8599. Outside the US, call +44 (0) 1865 778 315.
For more information, visit http://www.wiley.com/bw/journal.asp?ref=1085-9489